2013 UPDATE - We sincerely apologize but we will not be doing the Christmas light show this year. After a few weeks of pondering and debating about it, we decided after 7 years of doing the lights, we needed to take a break to spend time with our family & help those less fortunate. It takes a lot of time, effort (and a little stress) to keep the lights running and maintained as the "Show must go on". We appreciate all the supporters that have come routinely over the years and hope your holidays are filled with cheer and joy. Merry Christmas from our family to yours.




Autism Affects 1 in 88 Children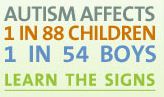 One of the most important things you can do as a parent or caregiver is to learn the early signs of autism and become familiar with the typical developmental milestones that your child should be reaching. For a complete list, visit our
Important Links & Info
page
The following "red flags" may indicate your child is at risk for an autism spectrum disorder. If your child exhibits any of the following, please don't delay in asking your pediatrician or family doctor for an evaluation:
No big smiles or other warm, joyful expressions by six months or thereafter
No back-and-forth sharing of sounds, smiles or other facial expressions by nine months
No babbling by 12 months
No back-and-forth gestures such as pointing, showing, reaching or waving by 12 months
No words by 16 months
No meaningful, two-word phrases (not including imitating or repeating) by 24 months
Any loss of speech, babbling or social skills at any age
---
THANKS FOR ALL THE FOOD DONATED IN 2012!!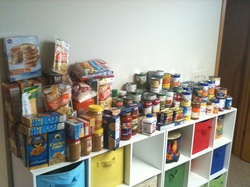 This is our 3rd year doing the food drive! Last year we collected about 200lbs of canned and dried food! The box will be in the front by the mailbox, you can't miss it. It will be out all day/night for the next month and emptied each night. We are wishing everyone a very Merry Christmas for 2012!



---
Our Story

I hope you are here because you saw one of our holiday light displays in front of our house and I hope you enjoyed it if you did! (I think it's a little more desirable than my website for sure!) If not, you can find links to the
videos
from previous holidays or a
MAP
to come and see them!
Not getting any younger and with the kid still alive in me, I purchased my first set of hardware & software to run my first show in 2006 and it was a lot of fun and un"fortunately" - addicting. However, in 2007 I decided to use my animated light show that I use for the holiday's (Christmas & Halloween as of right now), to help spread awareness of Autism as well. There is so much I could cover right now, but the most important thing for me at this point, is that you are here and are reading this! My goal is simple: to get people to learn more about Autism and the rate at which it is growing - visit here at
Autism Society of America
to see what I'm talking about! If we can help just one person become aware of the
signs that your child might have autism
so you can start treatment early, then I think we have done a good job. Read on to find out why.....
In 2006 we realized our youngest son Ryan (16 Months old at the time) was not developing like our oldest son or our all of our wonderful friends kids and felt concerned. For almost everyone who has not had to deal with this, the reaction is always "How you could not notice anything?" The reality is that the answer we got when we questioned early on was "Let's give it a little more time" or "All kids do that, it's normal and they are just learning." So, in talking with our pediatrician and our AWESOME school district (
Macomb Intermediate School District
) we started him in special schooling just before 2 years old and has made great progress, but we know we have a long way to go. While he had not been "officially" diagnosed with Autism, all of the things we had researched had pretty much led us to give into the fact that he was afflicted with this disorder and we are going to do whatever it takes to help him grow into a normal adult.
October/November 2012 - Update
Ryan is now mainstream in 2nd grade! 1st grade was a challenge but he did pull through with the help of the great staff and the most awesome teacher on the planet (Mrs. Ruzicska) and resource room aide Mrs.Jordon. Second grade is certainly more challenging. We do have a part time aide in the classroom that we are hoping will help him through the year. He is having a difficult time on many days trying to keep up with the "regular" kids. If he falls behind in doing an assignment, he gets very frustrated and feels like he is "losing" - like it's a race and then it's very tough to get him back on task. All we can do is stay positive and work with him and the staff by adjusting his Individualized Education Plan (IEP) to work around his strengths & weaknesses.
Check out our blog for other updates throughout the years!